Harper Motors began its operations as a Ford automobile agency in Eureka, California on February 25th, 1912.  2022 marks our 110th year in business, easily making us one of the oldest automobile dealerships in the United States.  Ford Motor Company lists Harper Motors as their 13th oldest dealer.  Still owned and operated by the Harper family, our business is a fine example of American entrepreneurial spirit intertwined with its love of the automobile.  I invite you to spend some time with us and read about my great-grandfather's struggle to become a Ford dealer in Eureka at a time when American industry was bringing about a product that would change the world…
Trevor Harper
General Manager
    The Harvey M. Harper Company story really began in 1870 on a farm in Kansas where Harvey Mitchell Harper was born.  He attended the familiar one room school and worked on the family's farm, learning life literally from the "grass roots."  When the family moved to Chanute, Kansas, he went into business for himself, pasturing the townspeople's milk cows and running a passenger service from the train depot.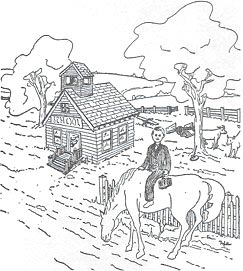 From Chanute, the Harper family moved to
Texas
, and then
Phoenix, Arizona
, which in 1887 was a true western frontier town with real-life gun-totin' cowboys.
After attending school there, Harvey Harper worked for a local butcher as a delivery boy. Tiring of this, he secured employment operating a horse-drawn road scraper for a contractor, planting fruit trees and operating a lime kiln.
Then one day, he chucked it all, flew the coup and went to
Kansas City
where he found work delivering the Kansas City Star newspaper on horseback.
He was eighteen years old.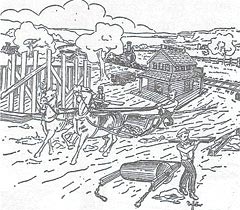 Young Harper was keen on adventure and not afraid to work for it.  In the next few years, the future Ford dealer drove a road scraper in Colorado, worked as a cook house flunky, served as a hotel porter, sold subscriptions, ran an elevator in an office building, peddled Singer sewing machines in Los Angeles and worked as a janitor in San Francisco.  He traveled to the Chicago World's Fair in 1893, experiencing cultural milestones such as the introduction of the Ferris wheel, Cracker Jacks and Quaker Oats.
    In New York, Harper took up employment as a hotel porter while looking for more adventures, which he soon found.  He got a job on a cattle ship bound for England.  From England, he returned to New York only to go to Europe on another cattle ship.  This time, his journey took him to Paris.  Upon his return to New York once more, he continued on by sea to New Orleans.  From there, he travel over-land to El Paso where tarried a while and returned to his folks' home in Phoenix in the spring of 1895 "with ten cents in my pocket."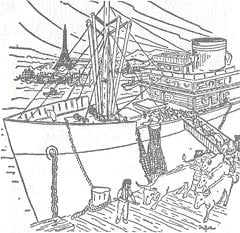 Harper was 25 years old and considering settling down.  For two years he tried various jobs in Arizona, finally becoming a clerk in a general store.  He was "sparking" a local girl and thinking vaguely of matrimony when he opened his front door one morning, picked up the local newspaper, and read the headline: GOLD DISCOVERED IN THE KLONDIKE!  Six months later Harper was on-board the steamer Humboldt1, bound for Skagway, Alaska.  
    The Great Stampede was on for Harper.  Together with his two partners, he climbed the infamous Chilcoot Pass, traveled down the Yukon River from Bennett Lake to Dawson City.  They eventually staked out a claim on Dominion Creek, where they built two log cabins and set about prospecting for gold.  Ultimately, he would sell his share of the claim for $300.
1.  
The steamer Humboldt was built by the Humboldt Steamship Company, owned by Eureka's Richard Sweasey.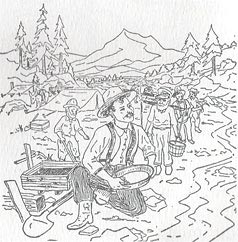 While climbing the Chilcoot Pass along with all the other sourdoughs2, Harper noted the hundreds of gold-seekers "sitting along the trail eating a cold lunch washed down with cold water… the cold and icy wind blowing through their whiskers…"  Remembering this bleak scene, he hurried back down to Dawson, borrowed fifteen dollars, bought supplies, and retraced his steps back to the bleak pass.  There, with the aid of some of his mother's receipts he had foresightedly taken along, he set up a primitive lunch counter.  Harvey's Place, as it was called, served up hot coffee, flapjacks, and biscuit-and-bacon sandwiches.  In 36 days, he counted $420 in profits (nearly $13,000 in 2020 dollars).
    2.  [from the use of sourdough for making bread in prospectors' camps] : a veteran inhabitant and especially an old-time prospector of Alaska or             northwestern Canada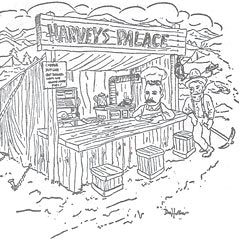 By 1899, the adventurer had returned to Phoenix, visited his family, and journeyed on to Boston, Massachusetts.  In Boston, he engaged in door-to-door selling.  Next, he traveled back to New York where he did other odd jobs until 1900, when he returned to Phoenix.  He was once more clerking a store.
    He planned to save money and return to Alaska, but, as he says, "One day a beautiful girl walked into the store and right there Alaska lost a future citizen."  Harvey Harper met his wife-to-be, Maisie Morgan.
    In 1903, the first of seven children arrived.  Nonetheless, in 1904 Harvey again began to wonder what it looked like on the other side of the mountain.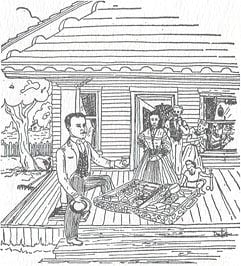 With his family, he traveled to Eureka, California.  There he set up a business selling foodstuffs door-to-door.  His wares included honey, jams, jellies, and various relishes of which his trademark product was a mixture he called Harvey's Chow Chow.  The business did so well, he had to buy a bicycle to cover his expanding route.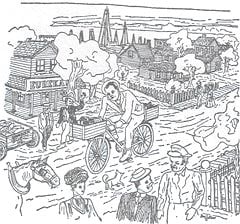 As the Harper family grew, so did Harvey's scope of business.  Soon he was not only running a food route, but managing a general store as well.  When his third child arrived, he bought two-hundred laying hens and sold the eggs.
    Called back to Phoenix by the illness of his aging father, Harvey sold their Eureka assets and the now-growing family settled again in that sunny city.
    It was 1911 and the soon-to-be-great automobile industry was in its infancy.  In fact, it was considered by many to be nothing more than a passing fad.  Many viewed the automobile as a sort of noisy, smelly contraption, or as an extravagant plaything of the wealthy.  Harper however, envisioned autos as having a bright future.
    He applied for and obtained a franchise to sell Ford automobiles in Eureka, a region our hero decided had great potential.  The rapidly growing Ford Motor Company granted Harper his franchise providing he bought a Ford and was in business in Eureka by February.
    As innocent as these conditions sound, they were real obstacles to Harper, for he had to buy a Ford from his own dwindling funds and then drive it to Eureka in the worst of winter conditions with his wife and five children.  There was no question of shipping the Ford; that would be too expensive and too slow.  It had to be driven.  Besides, this would give better publicity.
    About the operation of automobiles, Harper knew next to nothing, so it was with a great deal of courage and blind faith, that the entire Harper family planned the journey from sunny Phoenix to rain-lashed Eureka.  Outside their house stood a gleaming black 1912 Model T Touring Car into which Harvey, Maisie, their luggage, and their five children, Geddes, Ruflo, Arvila, Laura Lee, and Marjory had to somehow be crammed.  In addition, a camp stove, groceries, house wares, and hundreds of pounds of assorted gear had to be stowed in the "Tin Lizzie's" innards.  When finally packed, the load nearly exceeded the weight of the Ford itself.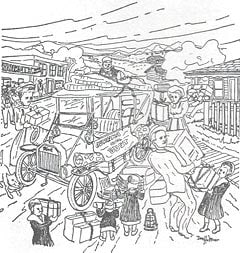 So on January 16th, 1912, the now famous Phoenix-to-Eureka trip was underway.  The family camped the first night near Buckeye, Arizona.  The next day's camping spot was on the Gila River, then to Yuma, Brawly, El Centro, Coyote Wells, Escondido, and Los Angeles.  Up to then, the going was reasonably good, if one can overlook the necessity of laying the family quilts on the sand so the Ford could traverse the softest parts of the desert stretches.  The quilts split of course, and Mrs. Harper calmly sewed up the long tears each night.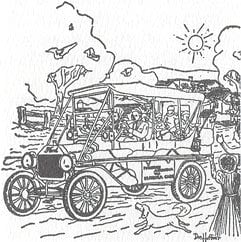 They had a real treat in Los Angeles.  They ate dinner at a restaurant, one of the few "boughten" meals on the entire trip.  From Los Angeles, the route followed what is now Highway 101 to King City.  In San Mateo, they camped in a "nice hayfield".  In San Francisco, they ate a meal at the Fly Trap Restaurant and visited Ford Motor Company's Regional Offices.  A ferry boat ride took the travelers across the Golden Gate (bridge wasn't built until 1937) to Sausalito where the camped overnight in a vacant lot.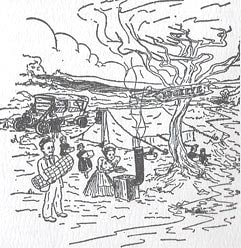 In Petaluma someone took a photo of Harvey with the local Ford dealer.  In Santa Rosa, it started raining, so boots had to be purchased for the entire family.  This nearly exhausted Harper's finances.  At a town called Old Windsor, they camped alongside a saloon (it was still raining) and departed the next day for Ukiah.  The rain still poured.  At Calpella, they camped beside the Russian River.  The following day, they drove to Willits, where the streets were a foot deep in muddy water.
    Much of the trip through Northern California to this point was difficult and dangerous.  The muddy Ford was grinding away in low gear up slippery inclines.  All the while, children, luggage, stove, everything was swaying dangerously.  But after Willits, the going got down-right intolerable by today's standards.  The so-called "highway" was scarcely passable, being just mud and raw earth.  In the slippery hillsides, Mrs. Harper was delegated the dubious honor of holding the Ford to the roadway with a rope "so it would not slide off into the river below".  Time after time, Harper walked ahead and shoveled a rough path for the car wheels.  The load had to be lightened frequently, and new mud hole negotiated, and the car again reloaded.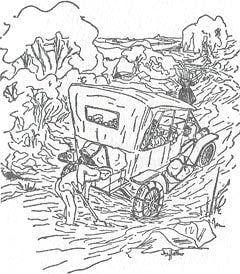 Eventually, a railroad stop called Sherwood Oaks was reached and a kind farmer loaned a soggy group an abandoned cabin where a fire was built and clothing changed.  The sight of the stove reminded Mrs. Harper that in one unloading and re-loading, her stove had been left behind.  The farmer's boy was sent to get it.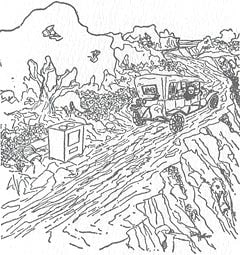 Outside of Sherwood oaks, a tire blew (the children thought someone was shooting at them) and the family camped under the dripping trees for several days with nothing to eat but bacon and beans.  Mrs. Harper walked to the nearest farm house while Harvey struggled with the tire.  She was able to obtain more food, which turned out to be more beans.
    Luckily, the nearest resident was also a telegraph operator and Harvey wired Ford Motor Company a request for fifty dollars and a new tire.  They must have had faith in their new Eureka, California Ford dealer, for these precious commodities arrived a few days later via horse stage.
    "I put the tire on the wheel and the $50 in my pocket and we loaded the car… but it refused to start," recalled Harper.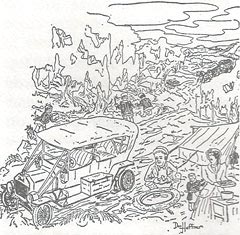 He cranked, tinkered, and experimented for a day and a half, but ultimately had to accept a tow by horse stage to Laytonville.  Still undaunted, the group obtained space in an unfinished story of a hotel, dried their clothing and blankets, and stocked up on groceries (no more bacon and beans).  With some dry cell batteries, bailing wire, and advice, Harvey repaired the Ford.  He was quick to remind onlookers that the trouble was not the Ford's fault, but his.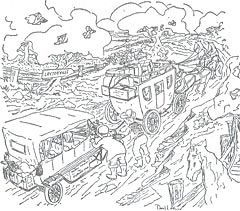 Most of the time, from now on, the family would be traveling in the mountain country.  Remembering their difficulties with the "highway", Harvey prudently hired a young man to accompany them with a team of horses, the idea being that the team could pull the Ford out of the deepest mud holes.  Actually, the Ford had to be stopped frequently so the team could catch up!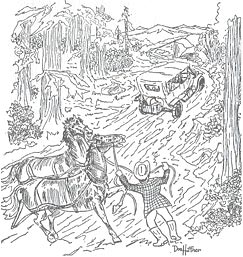 Out of Cummings, the Harpers had to drive a black, sticky, muddy, winding road up a mountain to Bell Springs, a village where the family camped and could see snow on the nearby peaks.  Next day they went to the town of Harris, then to Alderpoint and Blocksburg.  This was (and still is) rain forest country, thick with Redwoods and underbrush, and in 1912, almost devoid of anything we could call a road.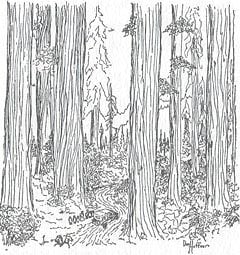 A short distance from Blocksburg, the Ford's brakes failed and they luckily came to a stop bogged down in a mud hole.  Harvey had burned out the brake lining.  He then worked all night and half the next day changing bands in the Model T's transmission1.  That afternoon, he confidently drove into Bridgeville.  "The whole town opened its eyes!" the family recalls, for it was generally believed that no automobile could make that trip.
    1.  The brake system in a Model T was an internal component of its transmission.  Changing the brake lining involved removing a transmission case             access plate located under the floorboard and replacing a friction band.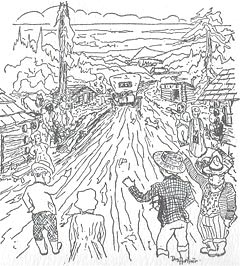 All along the route, well-intentioned people had advised the family again and again to give up this dangerous trip, telling them that "they'd never make it".  Many of these advisors grew angry when the Harpers declined their advice and continued.  "Foolish" and "foolhardy" were some of the kindest terms thrown out as the Ford ground its way north.
    From Bridgeville, the route was muddy, primitive, and dangerous, but mostly downhill.  The towns clicked by: Strong's Station, Carlotta, Hydesville, Fortuna, Loleta, Fields Landing, Bucksport.  "We sailed away at speeds up to 20 miles an hour," recalled Harper.
    Eureka at last!  It was February 25th, 1912.  The trip of forty days and forty nights filled with work, worry, danger, disappointment, delight, and frustration, had ended.  They made it.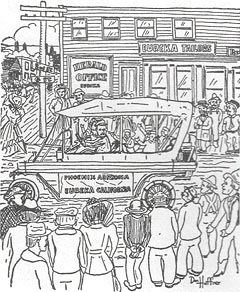 But none of them had ever doubted they would.  Despite what others might consider hardships, the entire family enjoyed every moment.  In fact, as Harvey told it, "When I asked Mrs. Harper about this trip, she was all for it.  She too had a grand pioneer spirit and no doubt the children inherited their share."
    For several days, Harper recalled, "I stood at various street corners, the car all covered with mud, answering questions and giving a sales talk."  Right there, he sold his first Ford; by the end of that year, he had sold 35!  At that time, there wasn't even a Harvey M. Harper Company.  His office in his hat, he drove up narrow, muddy roads, demonstrating his "universal car", to people who were disinterested, skeptical, or doubtful of the future of automobiles.  Despite these obstacles, people often said, "I'll buy".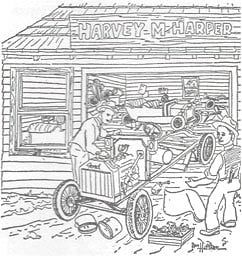 Harvey M. Harper became not only an aggressive, progressive auto dealer, but an interested, participating member of his community.  The committees, councils, drives, and community activities he supported and participated in are virtually endless.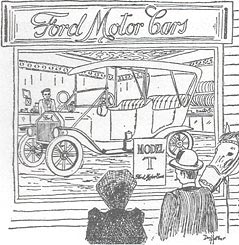 At 78, he turned the management of the business over to Harvey G. Harper, his youngest son.  Harvey M. Harper continued as vice-president and acted in a consulting capacity.  He also felled, cut, and cured redwood trees and built himself a log cabin, reminiscent of the one he built in Alaska during his gold rush days.  He put in a full day at his place in the country, working, grubbing, digging, planting, and building.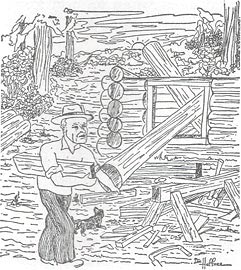 Then, at 83, when most of us would be content to sit in a rocker before the fire, the old adventurous urge returned and Harper traveled to Lima, Peru on a whaling boat.  From there, wanting to see more of South America, he flew to the headwaters of the Amazon and made the trip downriver in a wood-burning river boat.  He enjoyed every minute of it.  The new sights, sounds, and experiences buoyed his spirits just as they had done when he had traveled from Paris to the Chilcoot Pass.
He had a leisurely trip home via New Orleans, and paid visit to his birth-place in Kansas.  Upon returning home, almost before he'd taken his hat off, he was gone on a deer hunting trip in the Trinity Alps with some old friends.
In 1960, while Harvey M. Harper Company was gearing up for its 50th anniversary, Harper M. Harper, still active, alert, and bight-eyed, celebrated his 90th birthday with his six living children around him as well as his seventeen grand-children and eighteen great-grandchildren.
That is the Harvey M. Harper story.