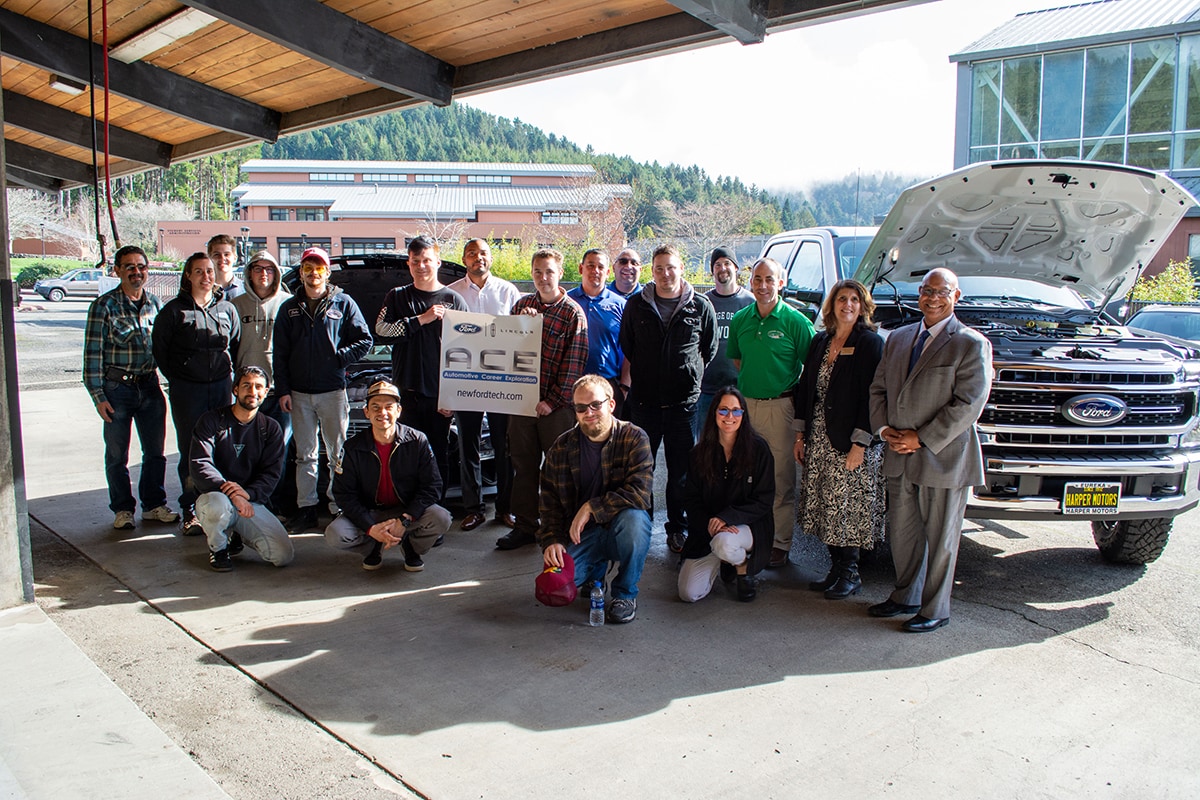 January 29th, 2020
The Ford ACE program exists to increase the quality and quantity of students entering the automotive technician career. It allows students and instructors access to Ford Service Training web courses as well as the ability to transfer those completed courses to a Ford dealership upon hire.  It also assists Ford dealerships in supporting local automotive technology programs.  Harper Ford has partnered with College of the Redwoods in the implementation of this program. The kickoff-event for the ACE program at College of the Redwoods was held at the Eureka campus on January 29th, 2020.
The event was attended by Automotive Technology students as well as staff from
Ford:
Chris Allen, Ford Field Service Engineer

Juan Maldonado, Ford Regional Talent Placement Specialist
Harper Motors:
Trevor Harper, General Manager

Robert Barrera, Service Manager
Chrissy Ziemetz, Ford Service Technician, College of the Redwood Automotive Technology Industrial Advisory Board Member
College of the Redwoods:
Anibal Florez, Automotive Technology Professor

Mike Richards, Automotive Technology Department Chair Emeritus

Keith Flamer, President, College of the Redwoods

Kerry Mayer, Dean, Career Education Division
Harper Motors is investing in the long-term health of the automotive repair business.  Vehicles have become extremely complex, especially in recent years.  The industry expects vehicles to continue to get more complicated as technology continues to enhance both the safety and the ownership experience of automobile users.  Automobile repair has evolved into a highly-trained technical field where workers enjoy a living wage.  College on the Redwoods has an excellent program where students in Humboldt County can learn the foundation of a rewarding and stimulating career.  If you are interested in a career in automotive technology, contact College of the Redwood or Harper Motors.  For more information click on the links below.